Our commitment to a sustainable future
Sustainability is a core belief of Chiesi Limited. In 2019, Chiesi announced its commitment to becoming carbon neutral by 2035 as well as reducing the carbon footprint of our activity and portfolio.
In addition, Chiesi is a certified B Corp®, a business that strives to meet the highest social, legal and environmental standards to balance purpose and profit.1 B Corp® organisations are legally required to consider the impact of their decisions on their patients, community, employees, suppliers and the environment.
Chiesi is committed to helping patients make their lives better and to this end, it continuously strives to innovate and improve its products, taking both clinical and sustainability factors into full consideration.
Take AIR scheme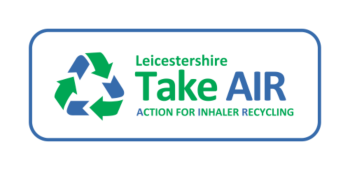 As part of our ongoing commitment towards a sustainable future, Chiesi launched the Leicestershire Take AIR (Take Action for Inhaler Recycling) scheme in January 2021, to enable inhaler users to safely and effectively recycle their empty or expired inhalers through the post. The scheme is currently being piloted in the Leicestershire area for 12 months. This is a Chiesi Limited scheme supported by University Hospitals of Leicester NHS Trust and Leicestershire and Rutland Local Pharmaceutical Committee (LPC).
Take AIR supporting materials can be found by clicking on the links below:
References
[1] Chiesi UK, Let's make the world feel better. Available at: https://www.chiesi.uk.com/we-are-a-b-corp Last accessed: January 2021
UK-RES-2100006 January 2021