Our commitment to a sustainable future


Sustainability is a core belief of Chiesi. In 2019, we announced our commitment to becoming carbon neutral by 2035 as well as reducing the carbon footprint of our activity and portfolio.


As a certified B Corp®, we are part of a global community of businesses that meet high standards of social and environmental impact.1 B Corp® organisations are legally required to consider the impact of their decisions on their workers, customers, community, and the environment.2


Chiesi is driven by our desire to increase the quality of human life for patients, their families and their communities. We do this by finding innovative products and services, but also by improving the existing treatments and supporting our patients and their carers through their entire health journey.


Take AIR scheme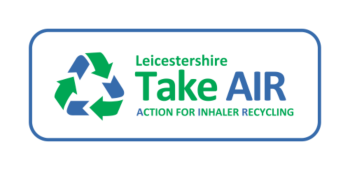 Chiesi is committed to supporting the transition to more sustainable models of care, such as investigating appropriate alternatives to plastics, and waste recycling methods, for respiratory products including inhalers.


In January 2021, we launched the Leicestershire Take AIR (Take Action for Inhaler Recycling) scheme to test the feasibility of postal inhaler recycling, allowing users to recycle their empty, unwanted or out of date inhalers safely and effectively through the post. Take AIR was a Chiesi Limited scheme supported by University Hospitals of Leicester NHS Trust and Leicestershire and Rutland Local Pharmaceutical Committee (LPC). Any inhaler, brand and type, could be returned using pre-paid, pre-addressed envelopes provided by community pharmacies within the area.


Once returned, the aluminium canisters were crushed, recycled and reused. The plastic components were also recycled and put back into the plastic supply chain. Any remaining propellant gas was extracted and reused such as within fridges and air conditioning units. Non-recyclable materials were converted into energy through a process called energy-from-waste by high temperature incineration.


The scheme was piloted in the Leicestershire area for two years, with a total of 52,148 inhalers returned and the equivalent of an estimated 305.3 tonnes of carbon dioxide emissions saved from entering the atmosphere.


The scheme was well received by participating pharmacists: 85% of respondents (n=26) were either 'very satisfied' or 'satisfied' with it. All patients surveyed (n=76) agreed that they thought the scheme should be available across the UK. Take AIR has also won many awards for its innovation in sustainability and collaboration.


The Take AIR pilot demonstrates the validity, scalability and sustainability benefits of postal inhaler recycling schemes, providing a model for the NHS to implement similar schemes. These schemes, together with other initiatives across respiratory care pathways, have the potential to significantly reduce the impact of inhalers and their propellant gases on the environment.


Reference


1 Certified B Corporation. "B Corp Directory: Chiesi Group". Available at: https://bcorporation.net/directory/chiesi-group. Last Accessed: June 2021.
2 Certified B Corporation. About B Corps. Available at: https://bcorporation.net/about-b-corps. Last accessed: June 2021


UK-CHI-2300499 August 2023