Information for Healthcare Professionals on the Supply of Chiesi Products
Updated: 14th October 2020
We continue to work closely with all stakeholders involved in responding to the unprecedented increase in demand as best and as efficiently as possible. This includes working hard to manage supply, consistently releasing stock weekly at average demand levels to supply the wholesalers. We expect continued stock deliveries over the coming weeks and months. We can also confirm that production of all our respiratory products, including Clenil® Modulite® (beclometasone), Fostair® (beclometasone/ formoterol) and Trimbow® (beclometasone/ formoterol/ glycopyrronium), continues uninterrupted at all of our manufacturing sites.
Clenil® Modulite® 100mcg (beclometasone): release of batch specific variation
To address the current increased demand of Clenil Modulite 100mcg (beclometasone), additional batches have been released into the UK supply chain following authorisation by the Medicines and Healthcare products Regulatory Agency (MHRA) for a batch-specific variation.
The numbers of the batches authorised by the MHRA so far are 1112190, 1112214 to 1112219 and 1900001 to 1900070.
Further batches of the Clenil 100mcg batch specific variation will be released into the supply chain over the coming months, which will continue to address the increase in demand. This website will be updated regularly to inform you of the additional batches that will be released.
Summary of key information related to batch variation:
These inhalers contain the same medication as before, beclometasone, and therefore require no change to either the way prescriptions are written, or the way patients manage their asthma.
Medicine is provided in the same inhaler device (pressurised metered dose inhaler; pMDI).
The only differences in the batch variation are related to the appearance:

The colours of the plastic actuator and protective cap are beige and yellow respectively (instead of brown and beige respectively; see images below);
The beige actuator is not embossed, however the canister and outer packaging are both still clearly labelled Clenil;
There is no dose indicator, however patients who received Clenil 100mcg prior to September 2019 (when this feature was added to the inhaler) may not notice that a dose indicator is not included.

The differences have no effect on the safety profile (adverse effects) of the medicine, however, patients should confirm the dosage on the labelling of the outer package and canister.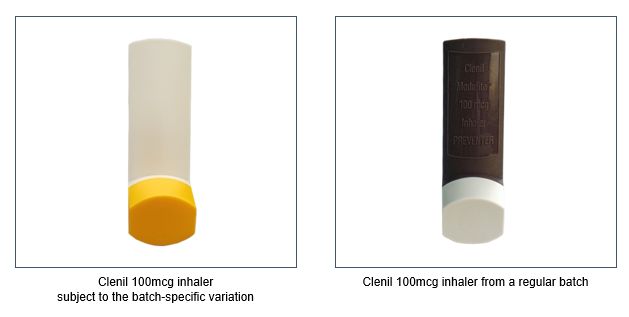 If dispensing this product, healthcare professionals should:
Check carefully the dosage of the Clenil 100mcg inhaler written on the labelling on the packaging, prior to dispensing as the Clenil 100mcg; this medicine is a very similar colour to Clenil 50mcg. Patients/caregivers should also be advised to check the dosage on the labelling on the package and the canister.
As usual, recommend that patients keep track of when they start to use their inhaler – each Clenil 100mcg inhaler (irrespective of batch) contains 200 doses of medication so if a patient is taking two puffs of their inhaler twice a day, this means the inhaler will last for over a month.
Clarify to patients and caregivers that, as with all strengths of Clenil, the inhaler can be used with a Volumatic® Spacer Device.
Remind your patients to clean their inhaler once a week as usual, referring to the package leaflet for cleaning instructions.
Additional information to share with your patients who have received a batch-specific variation Clenil 100mcg can be downloaded here.
We repeat our appeal to all healthcare professionals involved in prescribing and dispensing our range of products to help us maintain supply by continuing to write monthly repeat prescriptions rather than prescriptions for multiple months' supply of inhalers until such time as the short-term pressures begin to ease. This will help us immensely in being able to continue to supply all our products to all our patients during this time by bringing demand in line with supply.
Please do not hesitate to contact the Customer Services team via email (CustomerServices.UK@chiesi.com) should you have any further questions or require additional information.
UK-CLE-2000061 October 2020